One Perfect Day in Sonoma Valley: Day the Second
To do ahead of time:
Make a dinner reservation at one of these places where you can't go wrong: Harvest Moon Cafe (local, seasonal, constantly changing menu), 707-933-8160 (also via OpenTable), The Red Grape (innovative pizza), 707-996-4103, or Maya Restaurant (innovative Mayan), 707-935-3500
Morning
If this is only your second day in the Sonoma Valley, lord help you. There is so much to do, and there is so little time. But I will be polite and look the other way should you choose to turn over for a bit more shut-eye. If you miss a wonderful sight, well, it's not my fault.
But once you decide to bestir your lazy bones out of bed, hie down to the Sunflower Caffé [map]for some of that hot liquid refreshment your body craves. Here in the States, it's likely coffee, but if tea is your beverage of choice you will be well cared for as well. Oh -- and food, right. They have that as well. Take your purchases to out front if you want to watch the world go by at one of the sidewalk tables, or if you're in more of a mood to wake up slowly among plants and a quieter atmosphere, go out back to their nice garden. Either way, you can't lose.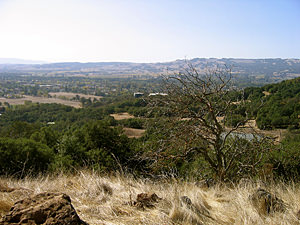 Don't overdo it on ordering, though, since you will soon be hoofing it up a trail. Best not to add too much baggage, if you get my meaning. Sure, it sounds like work but the pay-off is substantial — a wonderful view over the town of Sonoma and down toward Mt. Tamalpais in Marin County and other San Francisco Bay Area sights to the south. To be specific, I'm talking about the Sonoma Overlook Trail The entire loop is just under 3 miles, but no one will care if you cheat and start from the upper trailhead (see the brochure, don't expect me to make it easy for you). Whatever you decide, it's only a few blocks North up First Street West, where you had breakfast, to the Mountain Cemetery parking lot which is the lower trailhead. Heck, you could even walk it.
If hiking isn't your thing, I still recommend a walk — but rather a leisurely stroll around our amazing Plaza, which is the largest plaza in California (at 8 beautiful acres). You will find a dizzying array of wonderful shops, starting with one my personal favorites next door to the Sunflower Caffé, Baksheesh. If you think Sonoma is only for the rich, think again. This store has some of the most wonderful things at very reasonable prices. Plus, as a "fair trade" store you will know that the people who make these wonderful things are justly compensated. As we all should be.
Just down the street from the Sunflower Caffé and Baksheesh is the wonderful Sign of the Bear Kitchenware store. Be forewarned, however, if you enter be prepared to exit with new place settings, a pepper grinder, a knife you can't live without, and various and sundry other things you never knew you couldn't live without. Just sayin'.
Whatever morning exercise you chose (and you did, didn't you? Of course you did), it is probably time to head for some wineries. I suggest heading south — to — Viansa Winery and Marketplace [map]. Here you will find some unique varietals (Aleatic, Dolcetto, Freisa, Tocai Friulano) and some friendly people. Keep in mind, though, that this is your first winery during a potentially long day. Choose your tastes carefully, looking for what you may want to buy, and don't be afraid to use the dump bucket. Every tasting room has some sort of pitcher on the counter where you can dump the contents of your glass for any wine for which you have had enough to decide how you feel about it. Use it. Drunks are boring, and no more boring than behind the wheel and on our roads. Having partaken of the hospitality of Viansa, it's time to head back north into the valley.
Afternoon
Depending on when you levered yourself out of bed, it may be getting around time for lunch. You can decide whether you want to wine taste at the next location before or after food. Generally speaking, after is a better idea. Food can absorb wine and slow it's entry into your bloodstream, which overall is a good thing. Oh, and I hope you're also drinking plenty of water. That's always a good plan.
You have several choices for lunch, all of which are good ones. Whether you get sandwiches here or not, you should drop in Angelo's Wine Country Deli (if you go to the web site, don't get confused by the several locations, the one you want is right on the highway across from Gloria Ferrer Winery. It is a great place to pick up some home-made foods with an Italian flare. Also nearby is the Carneros Deli, which also features Bonneau Wines. They have great sandwiches and wine to go with. But frankly, you may want to get a cold bottle of water to take a break.
I've already mentioned a couple wineries in this very compact area (Gloria Ferrer and Viansa), but there are a couple of others well worth your time — Cline Cellars and Jacuzzi Family Vineyards — both just across the highway from each other, a stone's throw from Viansa, and maybe a mile at most from Gloria Ferrer, Angelo's Deli, and the Carneros Deli. The good news is you won't be driving far. The bad news is since you won't be driving far you need to pace yourself. One way may be to stake out some serious lounging time at Gloria Ferrer, where you can buy a glass of their award-winning sparkling wine and sip it with some nuts on their wonderful patio overlooking the vineyards below. You can also take a shopping stop between the Carneros Deli, right across the road from Gloria Ferrer, and north of Viansa, at Cornerstone Gardens.
Evening
If you have time before dinner, you might want to consider catching a movie at the historic Sebastiani Theatre on the Sonoma Plaza. They usually have a 6pm showing of whatever is playing. If that's too early, there is often another showing at 8:30pm, but check the schedule. This historic theatre is well worth a visit, as so few communities have been able to retain their historic theatres. If you want to hear music, try Murphy's Irish Pub, which can be counted on for having a rollicking band on weekend evenings. Also the Sonoma Speakeasy and American Music Hall is not to be missed -- especially if you enjoy New Orleans style jazz.
If quiet romance is more your style, perhaps a stroll around the plaza is in order. If you crave a nightcap, there are several civilized places around the plaza to stop in — EDK (El Dorado Kitchen) has a nice but pricey bar, and the girl & the fig across the street is one our favorite places on the plaza to chill. Whatever you end up doing, don't stay out too late — there is way too much to see and experience here.